OPEN CALL for CREATIVE INDIVIDUALS

Want to present your work at the museum?
Interested in provocative art collaborations?
Familiar with filmmaking, CGvideo, 3Dmodeling?
Have time to invest in art making?
LAB-LAB-LAB
Art project by 22 - artists in residency at Carpintarias
de São Lázaro.
The project is a multimedia art exploration of Anjos-Intendente-Martim Moniz area in Lisbon. To promote and preserve the uniqueness of diverse boroughs composing the area 22 hosts collaborative laboratories on
filmmaking, 3D modelling and animation
at Carpintarias de São Lázaro. Within the laboratories participants will work on collaborative art pieces and develop their skills in 3D-Modelling, Photogrammetry, MotionCapture, techniques of filming and video editing as well as integrate into the approach of 22 to art work with communities.
You will work, walk, study, interact, discuss, debate, create and discover ALOT at these laboratories. If you are not interested in all that, please, do not apply. The art we are going to create is unknown yet, we will make it together
Despite the Laboratory format usually emphasises the process over the finished product LAB-LAB-LAB project will result into the group exhibition of created pieces in January 2020 at Carpintarias de São Lázaro Cultural Center.
LabLabLab welcomes all willing species to apply. All laboratories are open for experienced and beginner participants. All applicants meeting the requirements will be invited for face-to-face interview.
Please, note:
• laboratory classes for the groups will be held on twice a week + open hours for extra interested participants.
• you need to have personal laptop or computer to participate.
• laboratory language - English
You want to be part of this?
Then please fill out your application online here
until Nov 20
.
Any questions you may forward to vanya22anya@gmail.com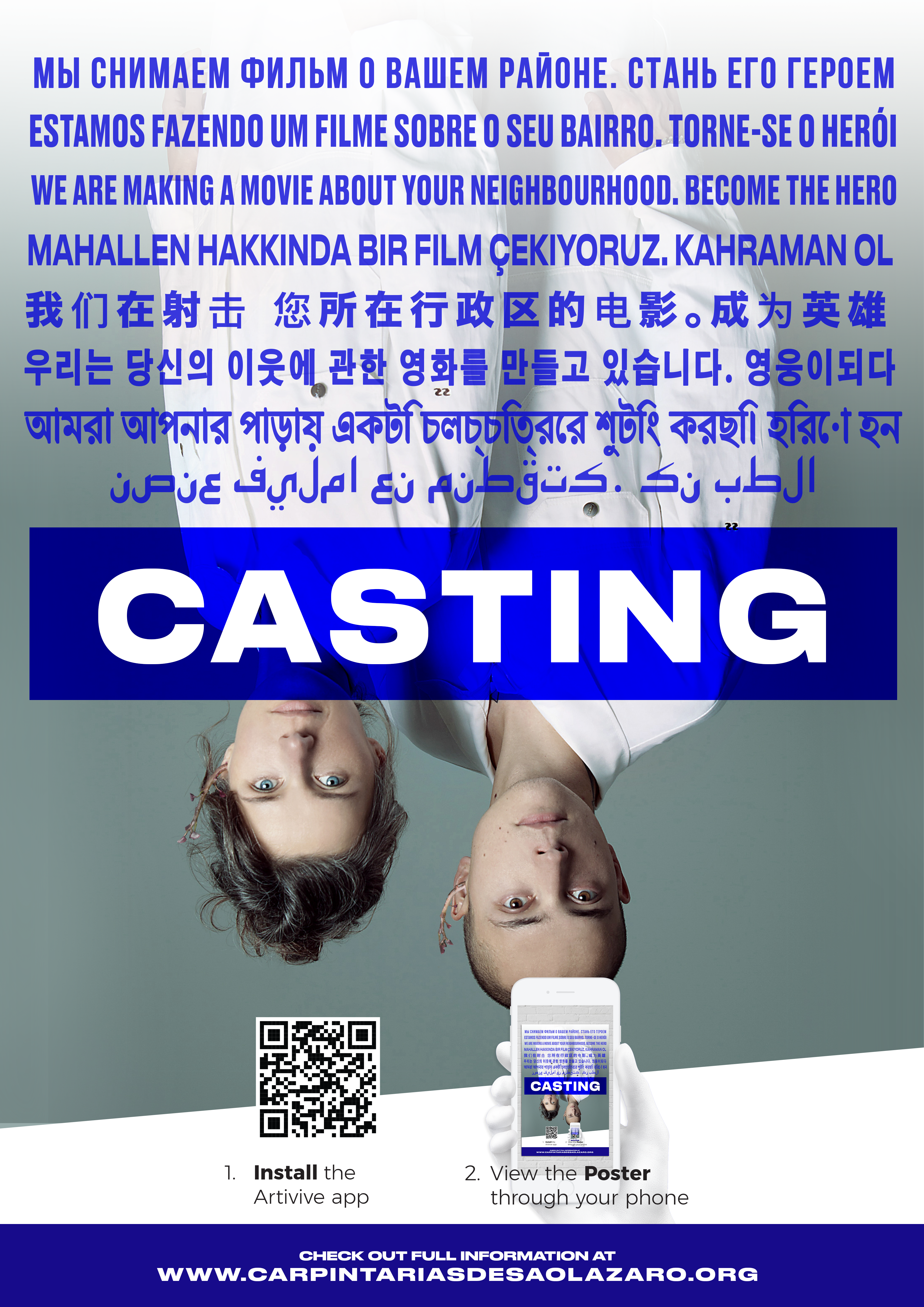 OPEN CALL for FILM CASTING

LAB - LAB -LAB

Multimedia art project by 22 - artists in residency at Carpintarias De São Lázaro
We invite all representatives of Anjos-Intendente- Martim Moniz area to take part in the casting for the movie we are making to preserve and promote the unique culture of the neighbourhood.
We will cast for actors, artists, sound designers, musicians, dancers, karate master, Buddhist monk, cameramen, postproduction, unique fellows, strange people, Chinese grandmas, African shamans, ninjas, singers, everybody who remembers old stories and wants to create new ones.
- The age - does not matter
- the professional occupation - does not matter
- the experience in movie making - does not matter as well.
The main matter is that you belong to the area of Anjos-Intendente-Martim Moniz. In case you pass the interview we will guide you through the whole filmmaking process. You may become a hero or create your own story of the neighbourhood.
To take part
, please, fill out the form
here
until Dec 1st. Please note
:
- The schedule for the project will be provided after Nov 15
- The shooting starts after Nov 15
- Educational classes for film production will be held two times a week in Nov-Dec
- If you plan to participate as filmmaker, sounddesigner or postproduction specials make sure you have your personal laptop or computer
Any questions you may forward to vanya22anya@gmail.com